I want new hospitality uniforms for my café. But it's so hard, where do I start? So many options out there! These are common first thoughts but don't be overwhelmed, as you read below you will soon realise it will be worth the time and effort and your business will benefit greatly from investing in a café uniform. Hospitality is an energetic vibrant industry so implement a stylish and functional uniform. A well-designed hospitality uniform is now really an essential part of brand building for any venue.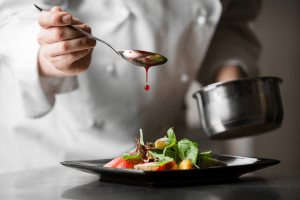 FREE EBOOK
Thinking Corporate Uniforms?
Where To Start
Image
Have a look at your venue. Are you a silver-service restaurant, event catering, café or hotel? Understand your brand and where you want to position yourself. Does your décor reflect the style of venue? If so we are part way there. To reinforce your brand, you will need a uniform to match your décor, food and style. Hospitality uniforms are an immediate front face for the company, therefore it is so important to have a work attire that reinforces your brand. In the past, a white shirt and black pants have done the trick but café and coffee culture has evolved and now customers are looking for a more stylish/on trend look in their favourite venues.
Uniform style 
You will need to consider which pieces of clothing are going to make up your new branded workwear. In some cases, an embroidered apron will be enough to boost the image of your venue. For others, it will require a matching t-shirt as well, an embroidered polo or a more formal button through shirt. Taking your image into consideration, will a plain black apron work? Or do you now need an embroidered stylish denim apron with a cross back? Will your apron be a trendy bib style or a more traditional half waist style? Generally, a shirt of some sort is also required, as you can expect the more laid-back coffee shops and cafes tend to suit a t shirt – will this fit your brand? For those fine dining venues, you will find that a more tailored shirt or custom designed button through top will better suit your image.
Functionality
A well designed embroidered uniform will look amazing and give that all important professional first impression. Further to this the uniform must be functional. For the hospitality industry, it means considerations like pockets on aprons for pads and pens, easy tie straps for comfort. Selecting a shirt that is available in men's and ladies fit so they suit and fit a range of body shapes. Along with looking good and being comfortable a hospitality uniform must stand up to some pretty tough wear. The fabrics for your uniform need to be able to be laundered and cared for easily as you know they take a beating with food and drink, stains and odours. Essentially your uniforms need to be as hard working as your business and team.
Chefs
Apart from front of house staff, will a chef uniform be required? Yes, is the answer. In many venues, the customers can see the chefs these days, and if your chefs are in clean professional uniforms then the customer will assume the food will come out to the same high standard.
For all your uniform needs trust Devon Clothing. Feel free to contact us for further information.